Solar Photovoltaics In Iowa
Solar PV Systems For Iowa
Simply defined, Photovoltaics (PV) are best known as a method for generating electric power by using solar cells to convert energy from the sun into electricity. The photovoltaic effect refers to photons of light knocking electrons into a higher state of energy to create electricity.
Over 95% of the solar PV systems in the United States are grid-tied systems, meaning they are connected to the grid, provide the ability for solar owners to "store" their excess energy on the grid, and use grid energy during low-solar production days or at night. There are four (4) common types of solar PV systems. Let's explore a brief outline of each.
ECG Solar™ offers only the finest selection of Premium Tier 1 Panasonic™ solar products available. Our unique relationship with our distributors and manufacturers ensures that you receive the highest quality, most affordable products and prompt availability.
Learn About Solar PV Systems
By far the most common type, Grid-Tied Systems offer the greatest return on investment. They are simple and very reliable applications. An owner can select three (3) types of PV systems from DC, Micro-Inverter, or Optimized DC. They all offer different solutions depending on the installation application. Don't worry. We'll help you through that process. Our recommendation is ACPV or Micro-Inverters since they currently deliver the most significant benefits.
Despite myths about solar, Grid-Tied Systems will not work when the grid power is down, so you'll be in the dark just like everyone else, however new IQ8 technology would offer Day-Time Backup with out the grid, generator or batteries.  All Grid-Tied Systems in the United States are required to shut down during an outage due to safety concerns for utility workers.  If you need power during an outage, then a bi-modal solar system — or standby generator — is the best solution for that application.
Expect to pay $2.80 to $3.50 per watt for a Grid-Tied System. They require very little maintenance and are designed to last 30+ years.  They are ideal for residential and commercial applications and can be configured for a slight offset of grid power or net-zero goals.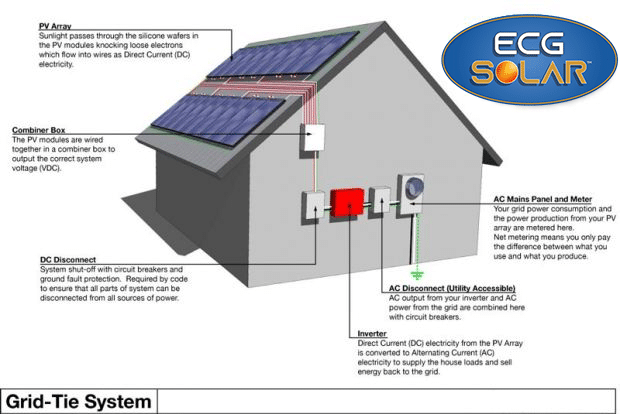 Get Started With Iowa's premier Solar Provider™
Schedule a solar consultation today! Click here to get started.
An essential requirement for solar is that you have a shade-free area large enough for your power plant to be installed. The solar window is typically 9 am to 3 pm, so solar will work for you if you have direct sunlight in this window. Ideally, it faces true south; however, in some cases, we can face it west and east and anywhere in between.  Just be aware that it will require a slightly larger system to output the same energy as a system facing due south.
A crucial part of the project is the electrical tie-in.  Inspection by the NABEP certified inspector will determine if any electrical service upgrades are required to support the size of the proposed solar system.  We also look at the requirement that the utility company may have for such a system.
Another critical part of the system—if it's going to be installed on a roof—is to determine if the roof is structurally sound enough to handle the additional weight of the solar system. Inspection of the condition of the shingles and roofing members will decide if it is feasible to install solar on the roof, however, with modern engineered roof systems, this is rarely an issue.
For more information on solar requirements, please see our Learning Resource page and our Certified Site Assessment page.
There are many considerations when designing and specifying solar. ECG Solar™ is here to take all the guesswork out, provide you with a complete turnkey service, help guide you through this process, and provide you with objective information that you need to know to make an informed decision.
The Solar Company You Can Count On
ECG Solar™ has been Iowa's Premier Solar Provider™ since its founding in 2008.  For over a decade, we have been a leading supplier of solar panels and energy storage systems available.   We carry some of the finest products, from Panasonic™ solar panels, Kohler™ standby generators, and Enphase™ battery systems.  With ECG Solar™, you can rest assured that you're receiving top-notch solar conversion services that will help you save money on your electric bill.